May 18, 2015 —

Club Texting

Text marketing gives radio stations a much better way to stay connected with their audiences.
It happens all the time - a radio station listener calls in to win concert tickets for a sold-out show but gets nothing but a busy signal, over and over. At some point, the listener may become frustrated and give up trying.
That's not exactly how you would want your listeners to feel, is it?
Thankfully, there's a way to open up the floodgates of communication between radio station DJs and listeners, and boost the overall number of listeners all at the same time!
It's called text marketing, and it's helping radio stations all over the country improve their listeners' call-in experiences, and help to increase the number of people tuning in. More listeners means increased advertising revenue for radio stations. If your radio station isn't already tapping into this communication goldmine, here are just a few reasons why you should.
1. Make it Easy For Listeners and DJs to Communicate With Each Other
Whether your listeners want to call in to request a specific song or answer a trivia question to win a prize, opening the lines of communication via text message makes it a lot easier for listeners to be heard. Imagine how many more participants your station would have by incorporating a text feature, rather than relying on a phone-in option alone for listeners to get in touch.
The easier it is for listeners to get through to DJs, the more interaction there will be with your radio station. This will help your business grow more quickly. What radio station team wouldn't want to boost engagement with listeners? Mobile marketing gives listeners a much better and easier way to communicate with your radio station anytime, anywhere. It's a win-win for your customers and your business.
2. Get More Ears on Your Station
Adding an element of mobile communication to your radio station can help generate serious ratings. Not only does text marketing get your name out there, it also helps to encourage and foster engaged listenership through all the offers and promotions you send out via text.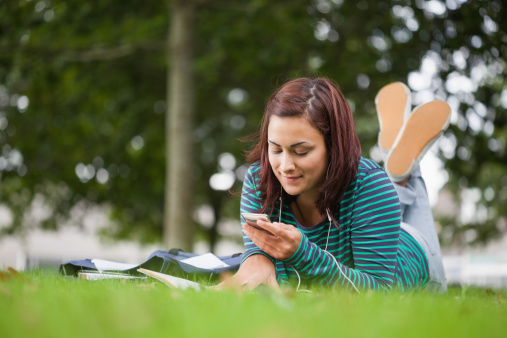 Use text marketing to give your radio station a boost.
For instance, if your station is holding a contest, you could include in your response something along the lines of, "Tune in during tomorrow's morning show to see if you're a winner!" A short message like this will entice your text recipients to listen to your station. It gives them a gentle little nudge to tune in, keeping listenership - and ratings - up.
3. Every Listener Who Texts Opts-In to Your Station's Mobile Program
Using text messages can give you that extra edge that can boost the number of listener opt-ins and grow your customer database. No matter what the reason for listeners texting in, your database automatically grows.
These are the most valuable listeners: those who have opted-in to your radio station database. These are the people who you can directly market to through a broadcast text message in the future. As your database of subscribers continues to grow, you can develop new streams of marketing revenue by sending text-based ads and promotions to the subscribers on your list.
Tap Into the Benefits of Text Message Marketing With Club Texting
Staying constantly connected with your listeners is a benefit that cannot be measured. That's what a radio station is all about. By improving the lines of communication between your station and your listeners, your business can hit the high notes.
At Club Texting, we can show you how your radio station can benefit from text message marketing. The options on how you choose to use text messaging to boost business are seemingly endless, and really are only limited by your imagination and creativity.
Run a contest so listeners can text a short code for a chance to win a prize, send bulk texts offering free entry to events, give away tickets to contests, send traffic updates, or allow listeners to vote for the next song to be played. There are so many approaches you can take to really make text marketing work for you, and at Club Texting, we can help support these efforts.
Text message marketing with Club Texting is simple, affordable, and extremely effective. Try Club Texting for free today!